To cover our basics before getting into anything more complex on this topic, let's see first of all what content marketing strategy refers to. It speaks mostly about your marketing development and strategy plan and to put it shortly, any kind of media (written or visual) that you created, on your own, and belongs to you.
That is why, before getting down to actually writing your plan, you have to take into account certain bullet points that will help you shape your plan:
What will make your plan be unique and stand out
What is the purpose of your plan (why do you create it in the first place)
How is it going to be useful for your users
Where you intend to further publish and use it
Why do I need a content marketing strategy anyways?
Besides the obvious fact that it's always better to have a plan and be prepared on the long run, let's see some spot on reasons:
You will be more effective once you have a clear path to follow
If you figure aspects out from the start, there will be less challenging points on the way
You will have a clear eye on where your budget goes along the way (it's a cost effective solution to have a plan)
Once you have a clear cut plan you have the freedom to experiment with other strategies on the go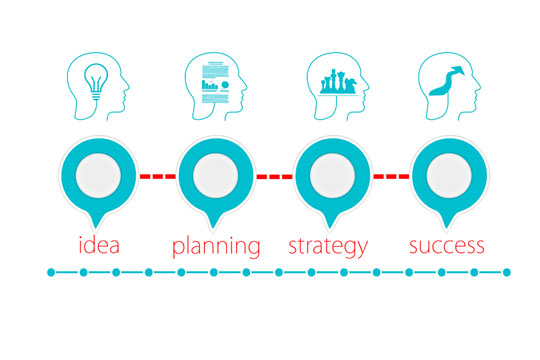 What are the steps I should take into account when creating my marketing strategy?
I'm glad you asked. Well, I asked but let's see what matters. You cannot just create a strategy out of the blue, without having some main ideas that it should cover, solve and help you in the future with:
1. Have a clear goal
First of all you have to figure out why you want to create content in the first place, what is the reason behind this and where do you want it to lead you on the long run? In case you get lost at this step, keep in mind that there are various free templates you can find online, that can help you define clear goals.
2. Know your audience
Before getting into writing anything at all, you have to know who is going to read what you write. Knowing your audience will define very much the type of writing you produce, the language, humor and topics you can tackle. Also, in case you are looking to market a new group, it's good to have your research done to know where their interests might lie.
3. What is your business plan?
You need to keep an eye on the possible obstacles you are bound to encounter and on what exactly brings uniqueness to your strategy. How do you stand out from your competitors and what extra can you offer?
4. Take an audit
Most of us started through simple blog posts that flourished throughout time catching the eye of our audience. However, there are several types of marketing that you can use and what's important is to keep track of your previous works and efforts and see what worked, what could use improvements and what new you could try for a change.
5. Bring on the new ideas!
Gather your team together and organize a brainstorming session in order to come up with the most brilliant and fresh ideas. What topics were the catchiest ones in the past? What new topics you could come up with and what is trending on the market?
6. Figure out what is your type
As I mentioned above, there are several content types that you can focus on in your strategy and it's a good idea to have it settled from the start. You can write blog posts, eBooks, templates, infographics, you can post videos and even podcasts, press releases, company news and so much more.
7. Get it done
As the saying goes, you didn't get this far to only get this far. So you made it to this point, don't ruin it all now. Create a calendar for the publishing, a calendar for the social media content to see when and how you will promote your work.
Now what are you still doing here instead of getting down to writing and gathering great ideas? Just kidding. I hope these steps helped you create a plan and keep a better eye on your marketing plan from now on.
Let us know if you have any other ideas or some plans that worked for you in the past!
We are looking forward to your feedback in the comments' section!